March Photo of the Month Winner
Working Dog
Posts: 1221
Joined: Wed Mar 23, 2011 5:51 pm
Tell us about yourself: I am in New York State. Got my first DS about 14 years ago (more or less as a rescue- lost her in Nov.). After years of GSD's, and a few dogs of other breeds (Rotti/Beauceron/Ger. Shorthaired Pointer/ Yorkie and my current Jack Russell) I now have another DS, 4mo female, no name yet, tho I have a few in mind.
Also have a horse-old quarter horse mare-32.
Can't wait for all the snow to get gone! Spring is coming too slow this year!
Location: Corinth, New York
Hope you have a great day!
"Until one has loved an animal, a part of one's soul remains unawakened." Anatole France
Chris Carlton/Lyric
---
Working Dog
Posts: 1076
Joined: Tue Aug 09, 2011 7:08 pm
Tell us about yourself: Rescued our first DS male on Dec 27, 2011. Approx 4 yrs. Rescued from NADSR. His name is Odin. Adopted a 2nd DS from NADSR June 27, 2012. Kai - 6 months.
Location: Fishkill, NY
Happy Birthday to you!! Enjoy!!
Barbara, Odin & Kai
---
Training Dog
Posts: 405
Joined: Sun Nov 07, 2010 2:58 pm
Tell us about yourself: I like Dutch Shepherddogs, especially the roughcoat. At the moment we have three dogs, two DS (one female who is 10 years and one male who is six months) and one male Laekenois at the age of three. We live in the north of The Netherlands.
Location: Zoutkamp, NL
Well, I'm ashamed of my self for not having read this before. I'll try again next year if that's okay with you.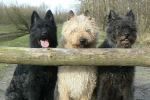 ---
Working Dog
Posts: 1960
Joined: Wed Jun 30, 2010 3:20 pm
Tell us about yourself: Had a GSD, am getting a DS puppy in a few weeks. Compete in agility, obedience, and cross train in tons of stuff. Found out about this site from the DS Rescue yahoo list.
I missed it, too
Happy Belated Birthday, Jan!
leih merigian
Vrijheid's H'Geyser
Zodiac vom Younghaus (over the bridge)
Central VA (near Charlottesville)
It's never too late to have a happy childhood...
---
Global Moderator

Posts: 5522
Joined: Sat Feb 12, 2011 3:05 pm
Tell us about yourself: I am a mom of 6 life forces - 2 kids and 3 dogs 1 hamster. I live in Ct. I have trained Ringsport and Agility and have 2 DS, one 15 and 7 and a Basset Hound Cookie who is 2
Location: Ct, USA
Contact:
Hope you got lots of wet kisses
Lisa, Thalie CGC & Sadie, Cookie the Basset, CT
---