I know you guys don't have a crystal ball, just looking to see if anyone has had a pup start out on the small side that still reached normal size?
Kitsune is 12 1/2 weeks and only 18 1/2 lbs, she was 14 lbs at 10 weeks. The whole litter is on the small side, seem to have shorter legs and compact bodies. Their mom is not a huge girl (58lbs and dad is around 70), and the litter did have to be hand raised from day 1 when she had a hormonal issue and lost her milk...they always looked a week younger than they were, but I would think they would be all caught up now by 12 weeks.
Anyone have a small pup that ended up normal size?
Just to kinda show what I mean, this is Kitsune with my friends DS pup Lycan. They are from the same breeder but different litters. Lycan is only 3 weeks and a couple days older. His parents are bigger than my pups parents to be fair.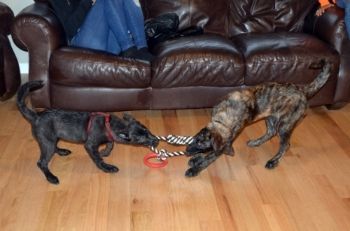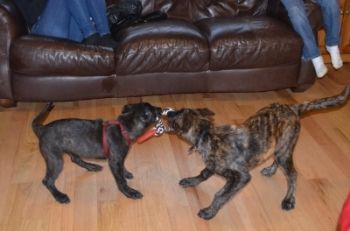 This is Kitsune's full litter brother...you can see he is pretty much her exact size so it is not just her being a female or being the runt thing...in fact Lycan's full litter sister was there too, and she was every bit as big as Lycan is.