I've not been on here much lately...
Been busy working, and keeping the brindle beast under control!
Koenig now gets to claim HCT after his name. LOL. We went herding yesterday, and it was AMAZING. Once he was let loose, true to DS form, he went straight for a hind leg. One good WHACK of a thin PVC pipe immediately in front of him had Koenig re-considering eating mutton for breakfast. In his first 3 min with the sheep he was giving the stockman a 'wait' and recalled to me, which are the 2 requirements to complete the 2d leg of the HCT. I was impressed. It was SO COOL to see a dog who'd never seen any sort of livestock just 'know' what to do!
I was nervous. I know the potential harm Koenig could do, and how quickly it could happen. I'd been assured that Joe could, and would handle my dog just fine. Still, most people don't 'know' DS's. I met him, and within 5 minutes of talking to him I was comfortable. This man can read a dog like no one I've met before in my life. Asses herding potential, along with a tons of other observations about the dog in less then 5 seconds! Koenig actually went first. (Yikes! I didn't really know what to expect!) I brought him up, Joe asked me if he was a Dutch, and how old. (he just turned 2) Said Ok, let him off. It was that simple. Away he went! The video below is the first run with sheep. Unfortunately, I didn't get any of the other runs video'd. Next time.
All in all, Koenig got 3 runs with the sheep. We're hooked, and going to try and make it out for weekly, or 2x weekly lessons.
Putting up the sheep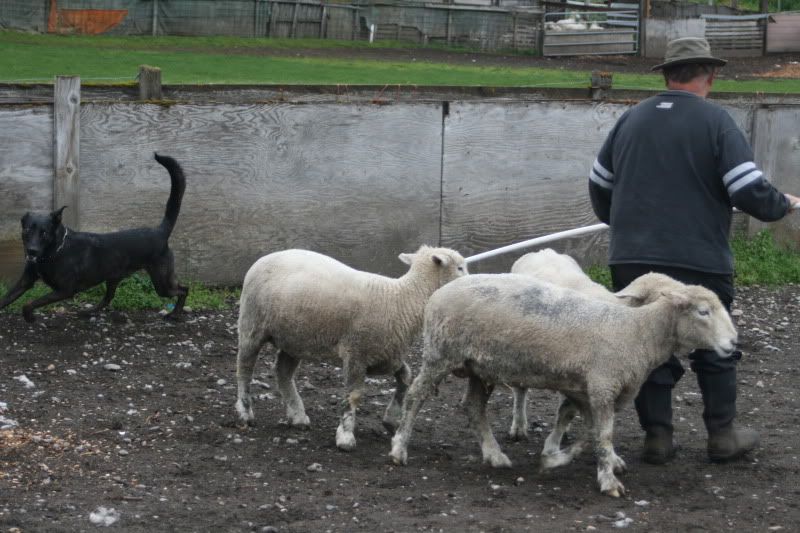 Here was one of the 'oh shit' moments he had with 'The Stick'. No, Joe will not allow you to maul his stock.
Recall
If you want to look at all of our pictures, they are here.
http://s23.photobucket.com/albums/b400/ ... th%20TCSC/
And, VIDEO!
http://www.youtube.com/watch?v=6htY9RGplNs
This is the unedited version, so you can hear the stockman's commands, and some comments he makes.